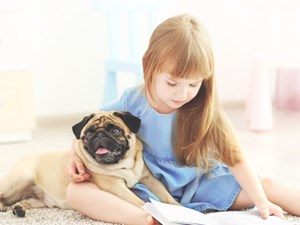 More Wags, Less Worry: Three Options for Pet-Friendly Flooring
They say let sleeping dogs lie, but on these floors, you'll also want to let them run, jump, and be their cute, furry selves. After all, certain flooring is designed to be wag-friendly and worry-free regardless of what claws come their way. Here are three flooring options that are
perfect
for your four-legged friends:
1. Lose the Stains with Laminate: Laminate has a tough top layer that resists scratches and stains, protecting your flooring from the most curious of claws. Best of all, it's easy to clean, which perks up just about any pet-owner.

2. Fetch-friendly Vinyl: Play fetch and forget about it. Vinyl sheet flooring that's installed properly acts as a super-shield against your pet's nails. It's highly resilient and easy to clean, making it a wise choice for pets and kids alike.

3. Enjoy More with Engineered: Certain types of high-Janka rating floors, including white oak hardwoods and Brazilian cherry, are durable enough to block scratches and stains. It's what makes engineered flooring ideal for any pet-friendly household.
Whether you choose bamboo, vinyl, or any other type of flooring, one thing's essential:
expertise
. Lean on our experts at USA Flooring for the right floors – and the right installation – for a pet-happy home.