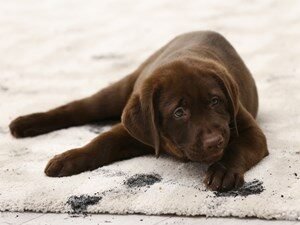 A FETCHING CHOICE FOR CARPET: WHY STAINMASTER® PETPROTECT® CARPET IS PERFECT FOR PETS
Cushy, comfy carpeting is a fan fave in any home, but when it comes to homes with pets, choosing carpet over hardwoods may seem like a doggone bad idea. Enter STAINMASTER® PetProtect®, a perfect way to have your carpet and clean it, too. In fact, with this color-safe, fade-resistant, and stain-resistant carpet, you can maintain beauty, sustainability, and wag-ability for years to come. All in all, here are four furry reasons why STAINMASTER® PetProtect® really puts the PET in carpet:
1. Cleans Easy: STAINMASTER® PetProtect® comes with built-in stain protection, so any accidents or oopsies are naturally easy to clean
2. Fur Friendly: It's built to easily release pet hair anytime you vacuum so there's less mess and less stress
3. Reduces Odor: Our four-legged family members may not smell like roses, but with this carpet, you won't know the difference either way
4. Durable & Comfortable: It's built to last, so you can enjoy its quality and beauty for many years to come
Ready to get both comfort and quality under your paws? Rely on our experts at USA Flooring to help you get STAINMASTER® PetProtect® and worry-free installation for your home!