FOUR COMMERCIAL FLOORING TRENDS TO UPGRADE YOUR OFFICE SPACE
Ah, our home-office life. We've come to know it well over the last two years. We've adjusted, rearranged, even perfected our work digs with updates, upgrades, and renovations galore. These days, however, most of us are heading back to our prospective office and retail spaces. So, what better way to inspire a fresh new beginning than a commercial upgrade? After all, flooring trends in 2022 are just as much for the office as they are for the home. Let's take a look at the newest trends for the new year.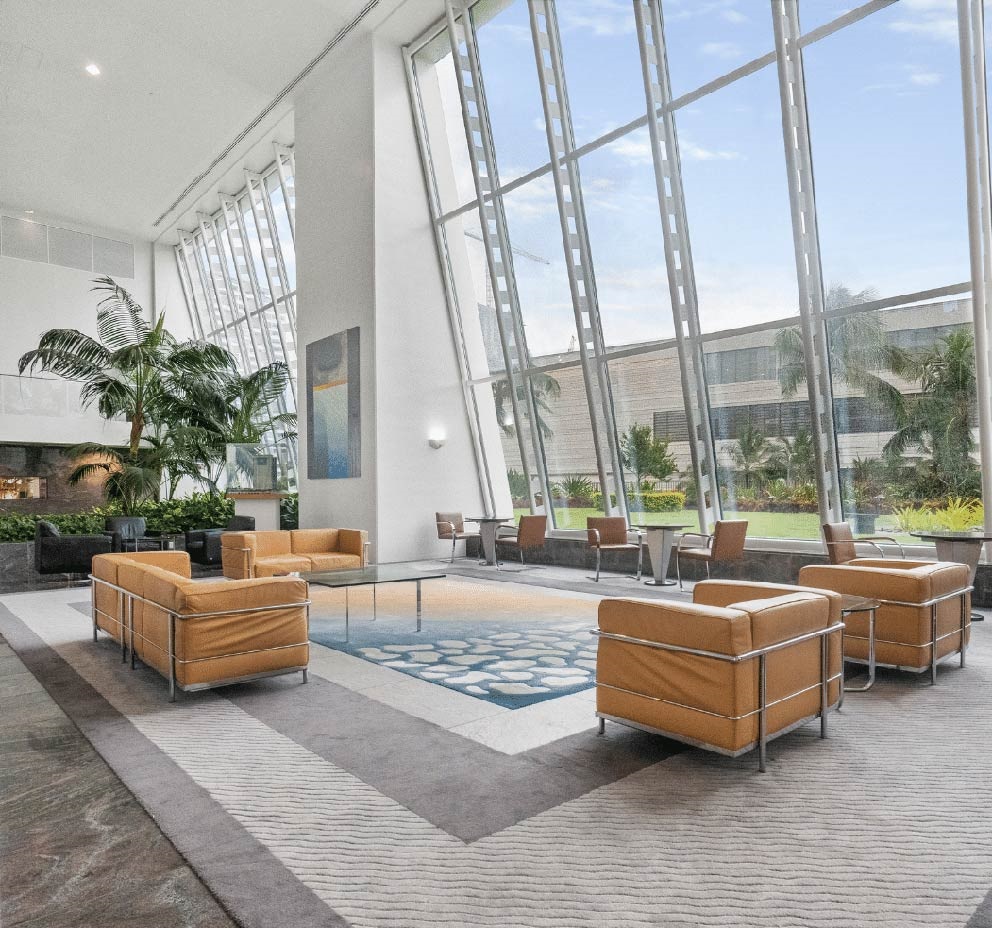 TREND 1: CLEAN & PRACTICAL WITH A TASTEFUL TWIST
Temporary social-distancing stickers have dominated commercial flooring, but some businesses are creating tasteful ways to direct traffic using the flooring itself. For example, unique combination mixes of hardwood and carpet can help direct traffic flow and maintain safe separation. More permanent distance markings are also on the rise with companies opting to incorporate sleek designs to help customers and employees stay safely apart. Other practical needs still popular in 2022 include flooring with antimicrobial, stain-resistant, and waterproof properties for a low-maintenance look and overall durability. For combination examples, connect with one of our expert staff members here.
TREND 2: CONTRASTING PATTERNS & TEXTURES
In 2022, colors, patterns & textures will give neutral shades a run for their monotony. The ever-popular gray flooring trend is still very much at play, but with added textures and color combinations for eye-catching style. Gray and other neutral flooring are even being paired with vivid colors or contrasting neutral counterparts. Bolder patterns are becoming increasingly popular to add style, personality, and even relaxation to your new and improved ahhh-ffice space. See style examples from one of our expert consultants here.
TREND 3: CARPET TILES WITH MODERN STYLE
Gone are the days of brown carpet tiles with their course texture and rec-room feel. Trendy, stylish carpet-tile options continue to emerge with the added bonus of flexibility and ease of installation. It also happens to be one of the most versatile and durable flooring options available. Custom flooring with a creative touch ends up being a snap with easy color combos and playful pattern options. For an up-close look at modern carpet tiles, contact one of our design experts.
TREND 4: 'THE LOOK' FLOORING
Sometimes you want the 'the look' but without the maintenance or sticker shock. Welcome to the age of natural-looks flooring where you can get affordable, real-thing style that's on trend and on budget. Choose from stone, marble, wood, even concrete — any look for your office or retail space. Best of all, these natural looking options come with the easy-breezy durability of laminate, vinyl and more. Connect with a member of our design team to get the look you'll love.
Luckily, these trends are here to stay for a while, so make a stylish splash in your office space with new flooring. At USA Flooring, our expert staff members are here to provide the right commercial flooring for your office or business, along with the expert installation and service you need, including virtual consultations. Call or come by our showroom today.