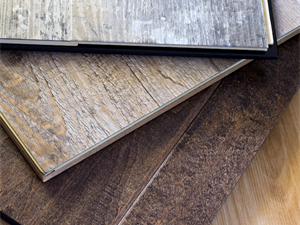 Choosing the Best Engineered Hardwoods For your Home
If you understand the basics of engineered hardwood flooring, then you know why it's a popular choice for almost everyone you meet. For starters, it's more affordable than traditional hardwoods, and who doesn't love more flooring bang for your buck? Second, it boasts a similar style to its counterpart with sturdy layers of natural materials that perfectly mimic the real thing. Last, but not least, its undeniable durability makes it a safe bet for any home.

Unlike laminate flooring, engineered hardwoods uses real wood in its top layers, so it combines natural beauty and engineered materials designed to last the long-haul, an ideal option for homes with families and pets.
Best of all, engineered flooring gives you endless choices. From installation to a variety of wood species, these are the different options you can get with engineered flooring:
Installation Options: The great thing about engineered flooring is that you can choose from glueless, glued, pre-glued, click-locking and more. Just pick your style and the staff at USA Flooring will install it seamlessly and beautifully the first time.
Surface Finish Options: Wood is the most common surface option and excels at mimicking various types of flooring. Other surface options include stone and tile for those who want to mix it up!
Texture Options: To give a realistic feel, you can choose from a variety of styles that mimic the original material. Textures vary of course, and it's always best to see and feel it for yourself. This can easily be done by stopping into the flooring showroom, or by scheduling a virtual showroom consultation.
Durability Options: There are different types of pressure used to engineer these remarkable boards. Whether you choose high-pressure engineered flooring, which is the most durable, or direct-pressure engineered flooring, both are built to stand the test of time.
Width & Thickness Options: So many choices, including how wide and thick you want your boards to be. You can choose boards ranging from a very thin ¼ to a thick 6. Flooring boards vary considerably in width. You can get thin, mid and wide plank boards ranging from 3 to 5+ inches wide.
Color Options: You can get engineered wood flooring in a variety of colors from black to beige to white, even red, yellow or orange!
Wood Species: Oak is perhaps the most common choice, with white oak holding the most durability. There's also carbonized bamboo wood, maple engineered wood,
American cherry, birch, and rosewood, which offers unparalleled durability, along with hickory and walnut. On average, hickory is more durable than oak and maple therefore ideal for high-traffic areas.
With the vast array of flooring options, engineered hardwood flooring remains the popular, affordable choice. At USA Flooring, our expert staff members are here to provide the right engineered hardwood flooring for your family and lifestyle, along with the expert installation and service you need, including virtual consultations.  Call or come by our showroom today.