THE GO-TO GUIDE FOR AREA RUGS
Four Tips to Get the Right Rug for Every Room
Nothing adds an extra layer of texture and warmth to the rooms of your home quite like area rugs, but with so many sizes and choices, what's the right way to 'rug?'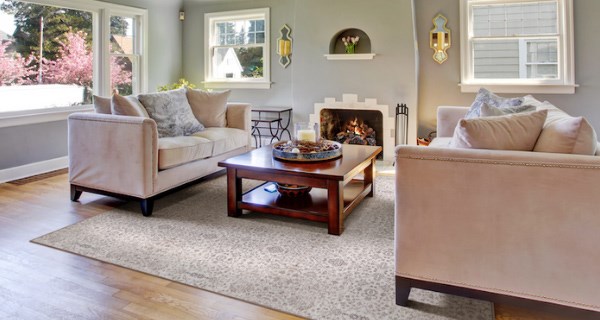 It's a great question to ask, especially if you want to protect your floors in addition to adding your own personal style. Whether you have hardwoods, tile floors, even wall-to- wall carpet, we're offering up four tips to help you choose the right area rugs.
Shop the Right Sized Rug: Size doesn't just depend on how big the room is, but the size (or amount) of furniture you have in it. A good 'rug rule' of thumb is to go by the number of furniture pieces you have, along with how compact/bulky they are. So, if you have a simple loveseat, chair and coffee table, a 5' x 8' or 6' x 9' area rug should do nicely.

For spaces with a full sofa, plus a chair or two, you could go with an 8' x 10' or 9' x 12'. Multiple larger pieces, such as a full sofa and loveseat plus a couple of chairs (or a full dining or bedroom room set) means a 9' x 12' or 10' x 14' rug would be a great choice.

For those with round dining sets, depending on number of chairs, a 6 foot or 8- foot round rug should work perfectly.

For smaller spaces, including a place to put your feet in the bedroom, runners are the perfect option. Choose a 2' x 3', 2.5' x 9', or a 3' x 5', depending on the size of the area, and of course, your own personal preference. So long as it is still able to show off those beautiful hardwoods or tile, you can't go wrong with runners.
Plan Your Placement: For living areas like family or living rooms, the front legs of sofas and chairs should sit on the rug, and you should leave at least 6 inches of rug space on each side of the furniture. You'll also want to make sure there is at least 1 foot of exposed floor between the rug and walls. If you have a larger room, you can choose a rug that is big enough for all four legs of sofas, chairs, and coffee or side tables. Dining room rugs should also be large enough for all chair legs to fit comfortably atop the rug, even when pulled out.

In bedrooms, a good rule is to choose a rug that extends at least 1 foot from either side of the bed. The rug can either be placed under two of the foot posts and extend out, or be large enough to accommodate both the bed and nightstands as long as there is enough extension – at least 1 foot – from either side.

Runners are also great for bedrooms, it's completely up to your personal preference. Many people choose to have runners on either side of the bed to add comfort and warmth to morning toes! For entryways, kitchens and bathrooms, runners are always an affordable and stylish way to keep every space up and 'running.'
Material Matters: You can't go wrong with natural fibers like jute or sisal for long-lasting style and earthy warmth. For a more classic look, a wool rug can add timeless beauty and comfort to any room. Easy-care rugsbuilt for performance are ideal for families and pets so stains and foot traffic don't cramp your style or your budget. Any way you choose, area rugs will add lasting style & comfort!
More Love with Layers: To add even more style and texture to your space, layering rugs is a great option. To layer multiple rugs, choose a neutral base like a sisal or jute and then layer a smaller rug – like a colorful flat rug or soft wool rug – over top. You can lay it asymmetrically or simply straight. Either way, it's a great choice for showcasing brighter colors, special design patterns, or softer textures.
When you're ready to add the beauty of area rugs to your home, we're here to help. Lean on the staff at USA Flooring to help you make right area rug choice for your home. Come by today to browse our colors, styles, and textures.